<!-*****************************--> <!-*****************************-->
About Dennis Jackson Landscaping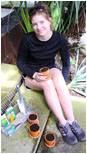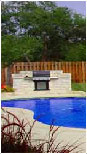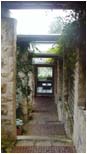 Dennis Jackson Landscaping In Austin & Central Texas
Our philosophy is to provide every client with a beautiful outdoor space in Central Texas, helping them find peace and tranquility, a state of inner relaxation and contentment. For 10 years we have been committed to helping every client bring their landscaping vision to life. Our long-term, ongoing clients regularly rely on us to create new gardens, ponds and outdoor kitchens.
Our work draws heavily upon time-tested Asian design principles, the horticultural science of successful gardening in Austin, the proven expertise of masons and carpenters with years of experience in their trades, and hundreds of successfully completed projects.
Whenever we imagine our clients at home enjoying their new 'LandEscape', we imagine them leisurely playing with their children or pets in a lush garden. We imagine them basking in the Texas sun, stretched in a steamer chair, cold drink at hand and a broad smile of satisfaction on their faces. We imagine them ruminating about the day ahead while enjoying their gardens, decks and patios in the morning sunlight. We imagine them beating the Austin heat by plunging into one of our gorgeous swimming pools at a friendly evening pool party.
And all of this has combined to create a philosophy at Dennis Jackson Landscaping that makes us a standout in our industry!
About our Founder:
Dennis Jackson has lived most of his life in Texas. His first company was a lawn maintenance company, CleanCut, founded in 1985. After graduating from college, he completed four years of service in Navy Intelligence, and later lived and worked in Japan for eight and half years. He has lived in Austin since 1999, where he founded his landscaping business in 2001. His two great passions are gardening and photography. Visit his personal website to enjoy his photography, and to learn more about his life and artistic vision.





<!-*****************************--> <!-*****************************-->